Watersheds - Illinois Basin (entire)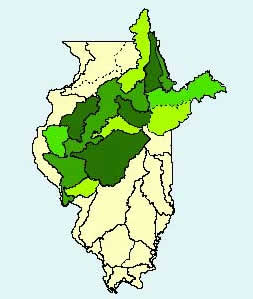 Watershed Profile
Name
Illinois Basin (entire)
USGS Cataloging Unit
Description
The Illinois River Basin in north-central Illinois is part of the Mississippi River Basin. Its drainage area of 28,906 square miles covers 44 percent of the state, and 90% of Illinois' population resides in the counties overlapping wholly or partially with the watershed. Agriculture is the primary use of land within the watershed, although the northeast is dominated by the urban and residential areas surrounding the City of Chicago.
Web Resources
View all of the Illinois Basin (entire) Watershed links in the ILRDSS database.
Database of historic water quality measurements collected by the ISWS. Searchable by location or characteristic (Alkalinity, Fluoride, etc.).
Jump to another watershed