Watersheds - Kankakee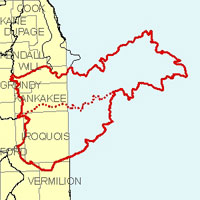 Watershed Profile
Name
Kankakee
USGS Cataloging Unit
07120001, 07120002 (Iroquois)
Description
The Kankakee watershed in northeastern Illinois and northwestern Indiana is part of the Illinois River basin. Together with its major tributary, the Iroquois, the watershed drains portions of six Illinois counties and has a total area in Illinois of approximately 2,170 square miles. Agriculture is the primary use of land within the watershed.
Web Resources
View all of the Kankakee Watershed links in the ILRDSS database.
Stream flow estimates for streams located within the Kankakee watershed.
Jump to another watershed