River - Vermilion-Illinois Basin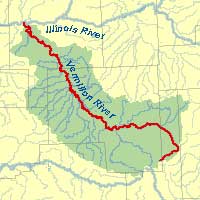 River Profile!
Name
Vermilion-Illinois Basin
Description
The Vermilion River in east-central Illinois is a tributary of the Illinois River. It is 112 miles in length and has a drainage area of approximately 1,330 square miles. Its major tributaries include Long Point Creek and Rooks Creek. The Vermilion River begins as North Fork Vermilion River, which flows northwest for 37 miles and becomes the Vermilion River in central Livingston County. The Vermilion then continues northwest and drains to the Illinois River near Oglesby. This river should not be confused with the Vermilion River in eastern Illinois, which drains to the Wabash River.
Web Resources
View all of the Vermilion-Illinois Basin River links in the ILRDSS database.
Jump to another river