River - Chicago/Calumet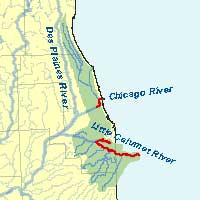 River Profile!
Name
Chicago/Calumet
Description
The Chicago River system is comprised of a network of rivers and constructed waterways. The Chicago River, Calumet River, and their main tributaries once flowed into Lake Michigan, but a series of canals and channels were built in the late 19th and early 20th centuries to divert this flow into the Des Plaines River. The Chicago River now flows down the South Branch Chicago River into the Chicago Sanitary and Ship Canal. The Calumet and Little Calumet Riversí flows are now carried by the Cal Sag Channel, which discharges into the Chicago Sanitary and Ship Canal approximately three miles upstream of Lemont. The Chicago Sanitary and Ship Canal is more than 30 miles in length and flows parallel to the Des Plaines River for its last 24 miles before joining the Des Plaines near Lockport.
Web Resources
View all of the Chicago/Calumet River links in the ILRDSS database.
Jump to another river